Buy HPE SSDs from our Huge Range
Upgrade your storage performance by boosting your HP Server or storage array with Solid State Disks (SSD).
We supply SSDs from HPE's huge range of around 160 devices.
The range includes SAS or SATA interfaces, Read Intensive or Write Intensive devices, Hot Plug, PCIe or M.2 connection types and a wide variety of sizes; from 60GB up to 3.64TB.
Options are available to suit most recent HP server models including Gen9, Gen8 and G7 servers.
For more information on HPE SSDs and choosing the right one for your server contact us via the adjacent form or call us.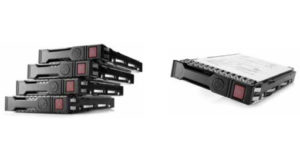 Examples of available HPE SSDs:
800 GB 12G SAS Write Intensive Hot Plug SFF (2.5-inch) SSD (802584-B21)
120 GB 6G SATA Read Intensive Hot Plug SFF (2.5-inch) SSD (816879-B21)
1.6 TB 12G SAS Mixed Use-1 SFF 2.5-in SC SSD (846436-B21)